Using the Casting app for iOS, you can submit applications to casting calls on the go. These applications will always include your applicable profile.
Applying to a Role
Tap on a casting call to bring up the Production Details screen. From here, tap on the

Roles tab to see what roles are available.



Once you have decided on which role to apply to, tap on the purple Apply button.




From here you will be brought to the Application page. You can change the media you wish to include in your application (all media required for the application will be highlighted by specific icons) by tapping on

Edit by each section.




Select or deselect the desired media item by tapping on it. Your primary item (the media that casting directors will first see) will be highlighted with a colored star, and any other chosen media items will also be highlighted.




You can change which item is your primary by tapping on the star icon.


Once you are happy with your selection, tap the 'Save' button at the top of the screen.



Keep in mind that you must submit all of the required assets on the application. There are specific icons on the application that indicate what you are submitting.



A. The check icon indicates it is a required asset that you've successfully added.
B. The circle icon indicates it is a required asset that you have not yet uploaded. You need to upload a file to that section in order to successfully submit your application.
C. If you don't see any icon next to the section, that means it is not required. You can still upload files to these sections, but you can also submit without including them.

If you try to submit without fulfilling all of the required assets, you will see an error message notifying you that you're missing specific assets.





Next, type in a cover letter (if required or desired). Please note that a cover letter cannot exceed 500 total characters.

Once you are satisfied with your application, tap the 'Apply Now' button at the bottom of the screen. This will submit your application.



*Note: You can also delete a draft application by tapping on the trash bin icon in the footer bar (shown above). You cannot delete an application after it has been submitted.

After you press Apply Now, you'll see a Success screen.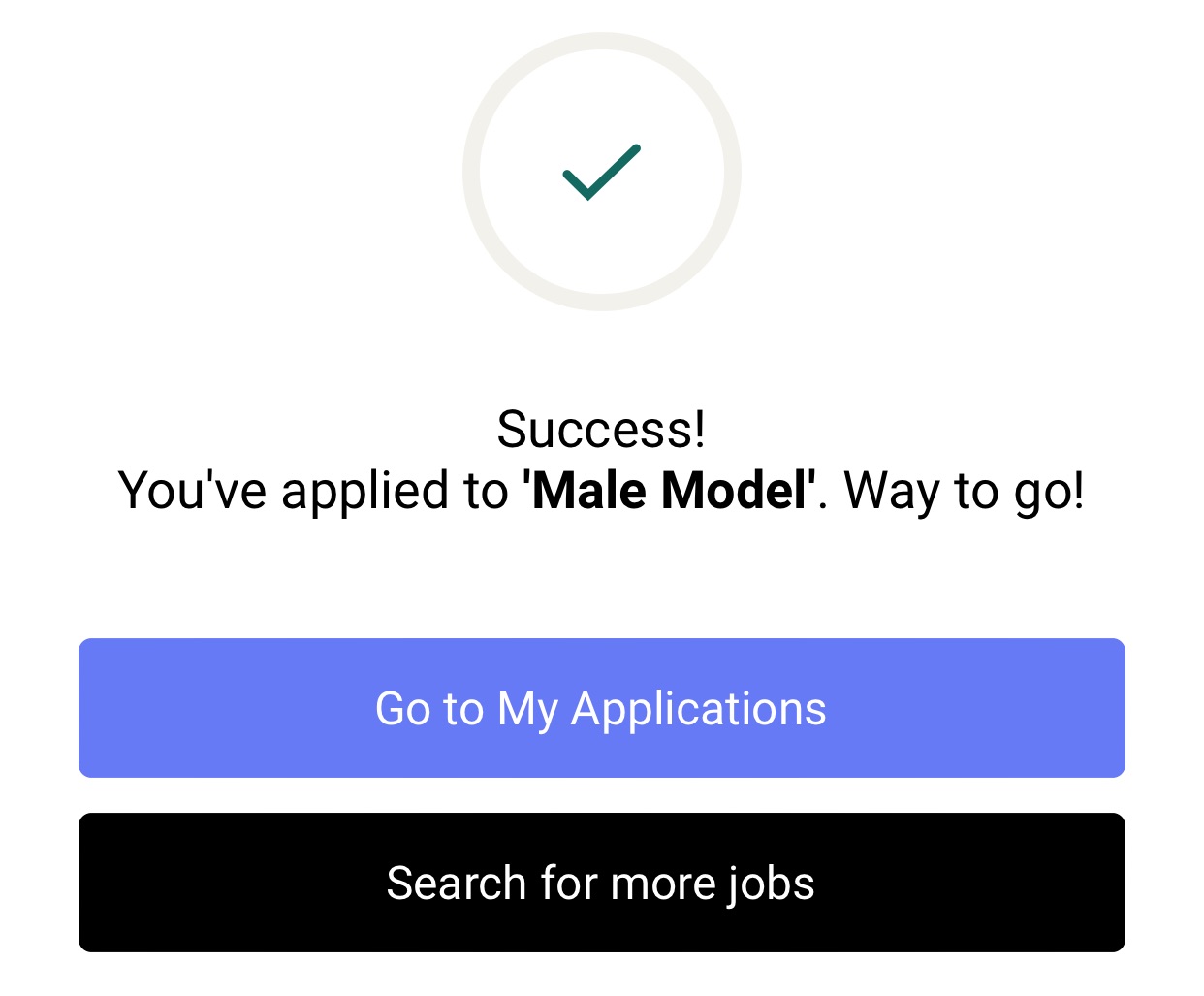 Updating a Submitted Application
If you feel that you have forgotten something when you submitted the application or just want to add something new, you can easily do that.
First, navigate to the 'My Applications' tab and find your application under Active.



Tap on the application to open it. You can now make any edits you desire. Once you are done, simply tap on 'Update Application' at the bottom of the screen and your application will automatically update



After you press Update, you'll see a pop up alerting you to that your application has been updated.