After submitting your application to a casting notice, a job poster may ask you to send them a self-tape audition. We have made it simple for you to add a self-tape audition to your original application.
Follow the steps below to both find and submit any self-tape auditions that have been requested of you!
Finding the Audition Request (on the website)
If requested, you'll receive a notification to submit your audition in your Messages Inbox and on your My Applications page (you will also receive an email alerting you of the request).

If you are responding to the request through the alert in your Messages Inbox, you can open your application by clicking the blue View audition request button or the linked text that says "Click here". Either one will take you to your application where you can view the request.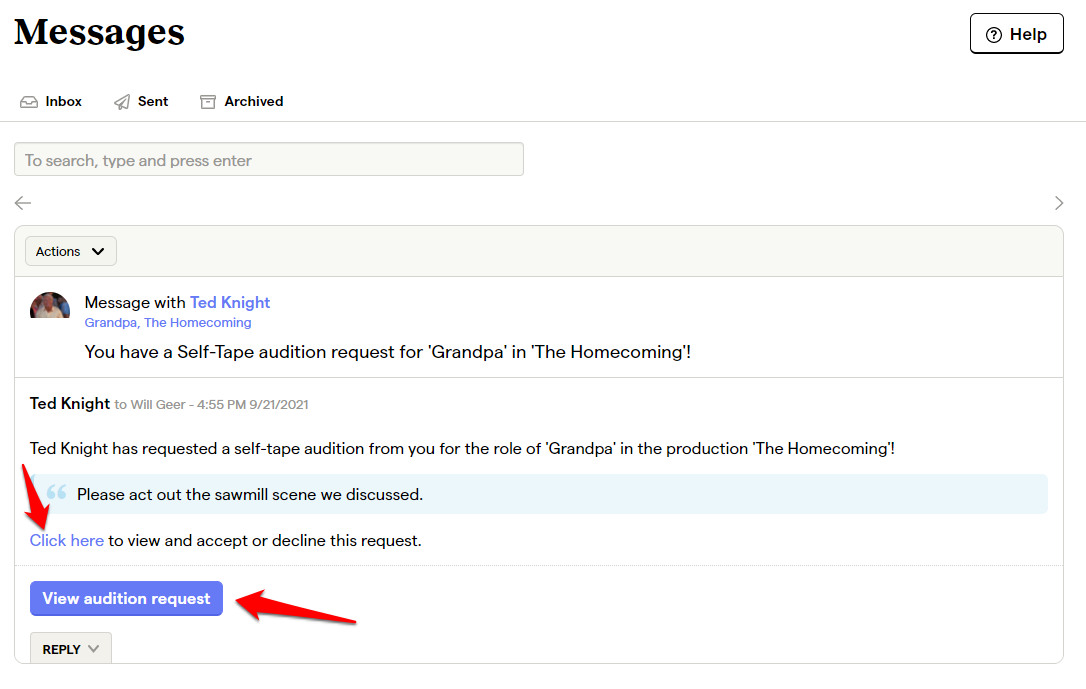 Alternatively, if clicking on the My Applications icon, you will be taken to your Auditions folder, where you can click on View audition request to open the request.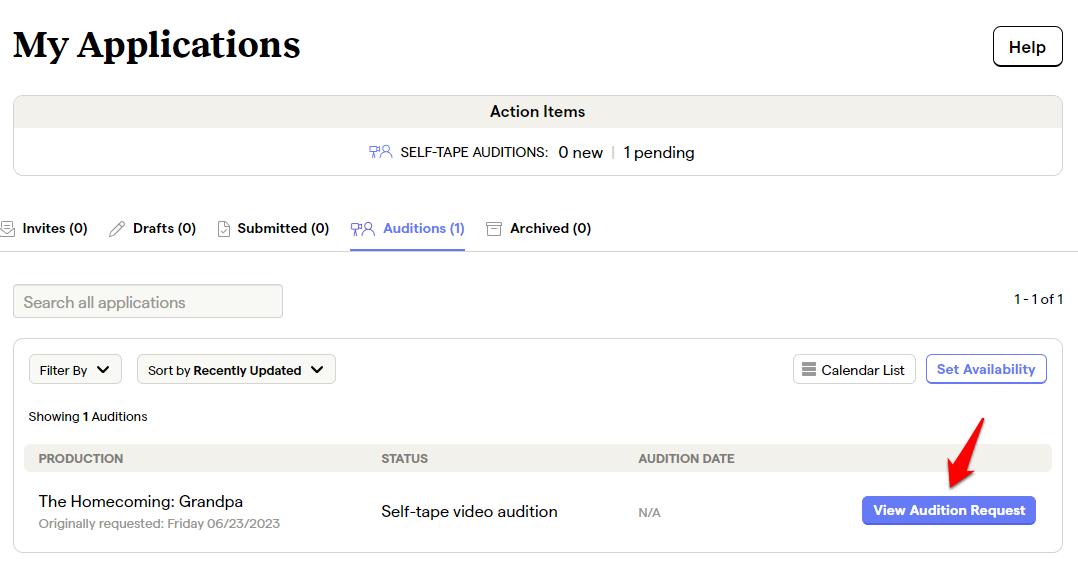 Submitting the Audition
Once you open the application, the audition request will appear at the top. To add your self-tape, click on the Add a Self-Tape button.
Note: only one (1) tape may be submitted per self-tape audition request.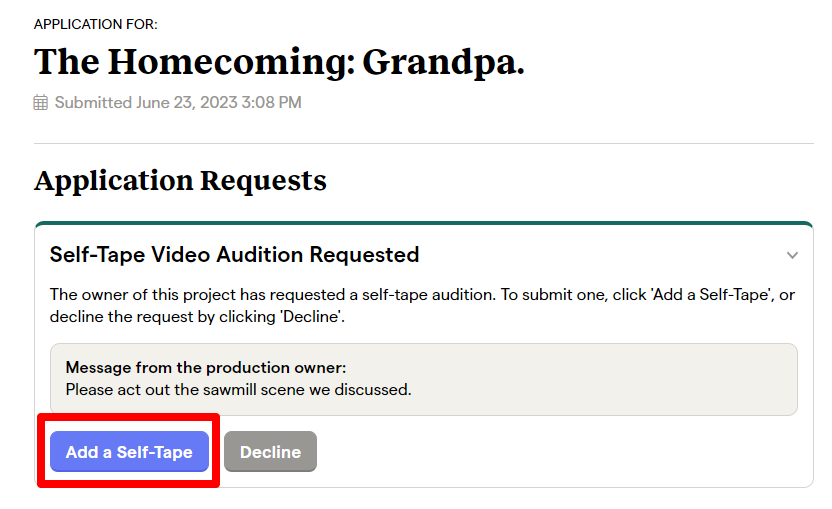 From there, adding a self-tape audition to your application works much like adding videos to your application or in Media Locker. You can either upload your video from YouTube or Vimeo, or upload it directly from your computer. (If your video is uploaded to YouTube or Vimeo, make sure the settings are correct before attempting to upload to the application). See here for information on those settings.
Either copy and paste the URL and click Import or click on Or upload a file and choose a file from your computer. After that is done, select the added video and click on Submit Audition to send the audition to the job poster.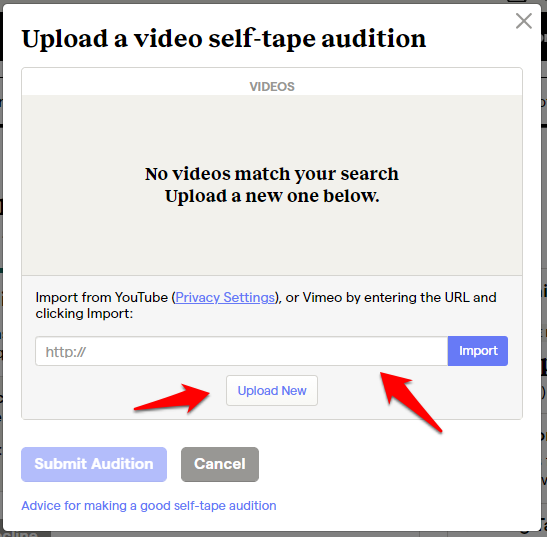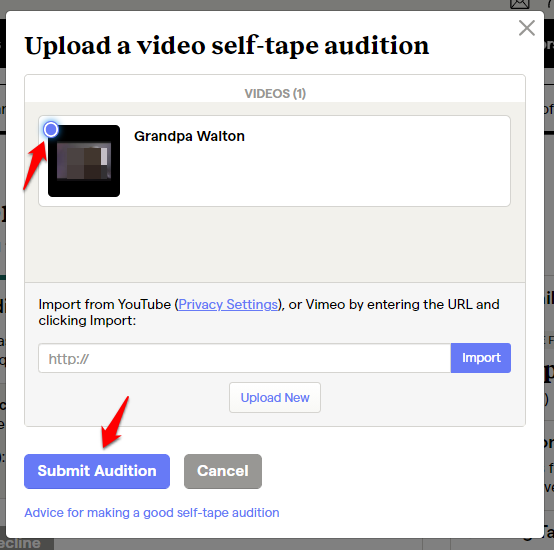 After being successfully submitted, the text box in the request on your application will update, letting you know that audition has been submitted (as seen in the photo below).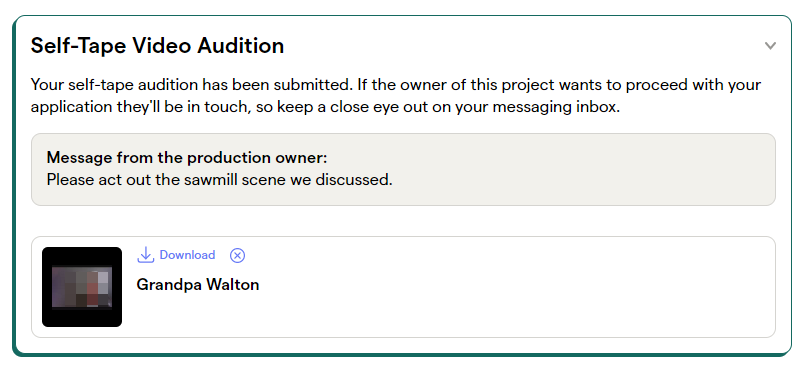 There's nothing else you'll need to do except keep an eye on your messaging inbox to see if the posters of the project are interested in moving forward with your application!