We have made it so that you can now audition talent remotely using our Virtual Audition tool. You can now audition someone without having to book space or travel to a venue. The functionality is explained below.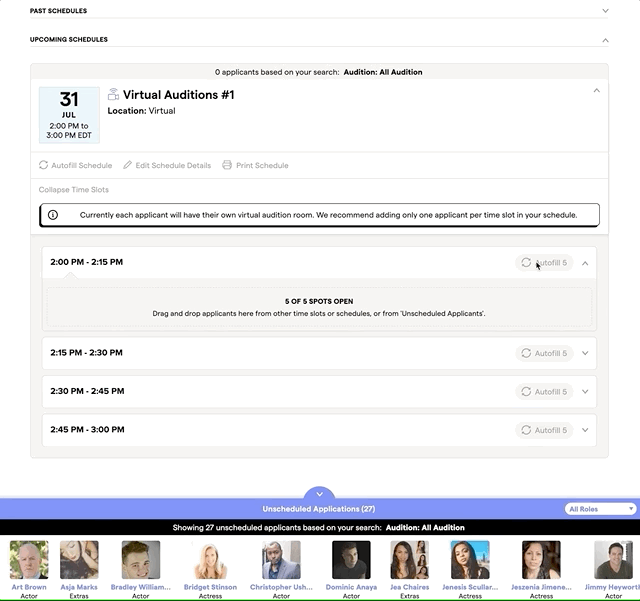 Sending Out The Virtual Audition Request
After you have posted your job and received some applications from talent that you would like to audition, you can send a virtual audition request. You can do that by creating an In-Person audition schedule and then choosing Virtual as the audition location (screenshot A).
Another way to do it would be to select some applicants and then select the Request an Audition action. You would then select the Create a virtual audition option and create the schedule from there (screenshot B).
For help with creating an audition schedule, please see our help article here.
A.

B.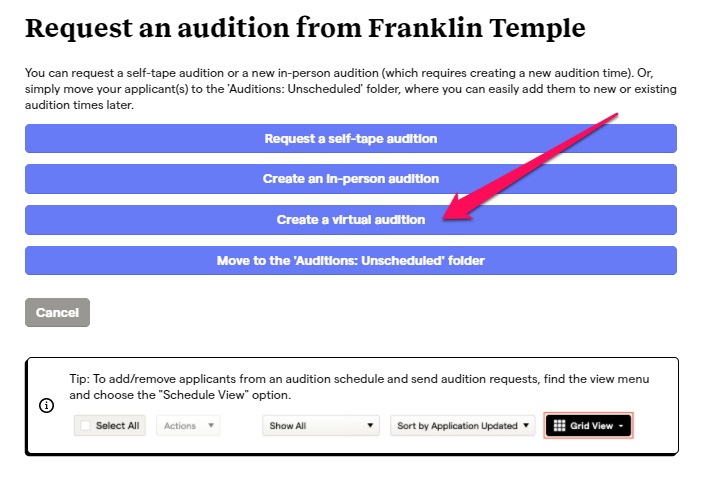 After creating the schedule and adding applicants to the time slots you would like to audition each in, you would send out the audition request. Your schedule will be automatically updated (and you will receive email digest summaries of the activity) when talent accepts or declines your audition requests or when they ask to reschedule (the screenshots below show what it looks like in the schedule prior to sending the request and what it looks like after the audition has been confirmed).
***Please note that applicants can only be set up one per time slot.


Auditioning The Talent
When it is time to audition the talent, you can go into your Casting Dashboard and click on View Audition Schedule in the Upcoming Auditions section you will see at the top of the page to access the schedule.

Likewise you could go back to your project's Application Manager (accessible via your Casting Dashboard), navigate to your Auditions folder and your Virtual >> Confirmed sub-folders. Be sure that you are looking at the applications using the special Schedule View.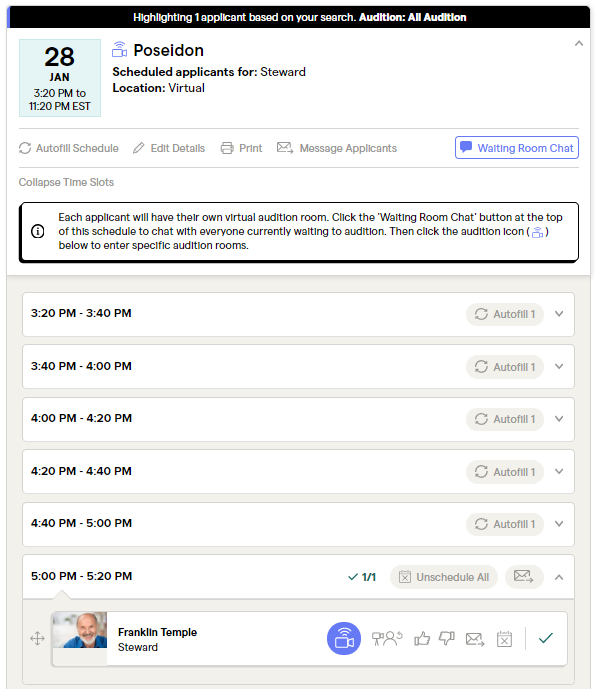 Scroll down to the applicant whose turn it is to audition and click on the virtual audition icon next to their name to begin the audition.

Your live video conference video-audition will now begin. You'll be able to see the talent and they you.
The audition will be recorded for you and automatically added to the application, and you can download a copy for further review with your colleagues.
Note: An unlimited number of applicants can be auditioned via our Virtual Auditions system. However, only one applicant can be auditioned at a time. But you can also invite up to 50 collaborators/colleagues to participate in each audition as well.
We are also actively working on on expanding and improving the features and abilities of the overall Application Manager, Scheduling Tools, and Virtual Auditions tool to better support multi-person collaboration, live chat, sharing of shortlist/selects, and much more. We welcome your feedback!
For more info about Virtual Auditions, including a sample video of the process, please click here.
The following video provides a convenient walkthrough of our most popular audition tools, including how to set up a virtual audition:
***If you are having technical issues during an audition, please see here for some possible troubleshooting steps