Email alerts are an essential feature of the website. Notifications of casting calls that fit your search criteria, messages from other users, and more have been a standard staple of the platform's experience for many years.
With the Casting for iOS app, users now have the ability to receive casting alerts directly on their iPhones. There are several places with which you can enable these notifications, so it's important to know what the controls in each location mean in order to successfully receive your push notifications.

*Note: These push notifications are set to appear no more than once per every two hours. We don't want to blow up your phone! Email notifications however will go out for every single notice.
Push Notifications in a Nutshell
Push notifications are a convenient new way for our users to be alerted the exact moment a role that fits their criteria is posted. They will be delivered to your device providing the following criteria is met:
You have granted the app permission to send you push notifications
Push notifications are turned on in the global notification controls
You have turned on push notifications for the specific notification type (messages, search results, and invites)
As always, if you have any questions or concerns, you may reach out to the Customer Service team and we'll be happy to assist you.
Granting Permission to Send Push Notifications
The first thing you'll need to do is grant the iOS app permission to send you push notifications to your phone. There are a few different ways you can do this.

Your First Time Opening the App
When you open the app for the first time, it will ask for your permission to send push notifications. Tap the 'Yes, Send Me Notifications' button.



An additional prompt will appear from your iPhone itself confirming your permission. Tap on the 'Allow' button

.



Now the iOS app has your permission to send you push notifications.
If It's Not Your First Time
At any time, a user can navigate to the Account Settings by tapping on the profile tab at the bottom of the screen, and then tapping on the gear (settings) icon in the upper left corner of the profile.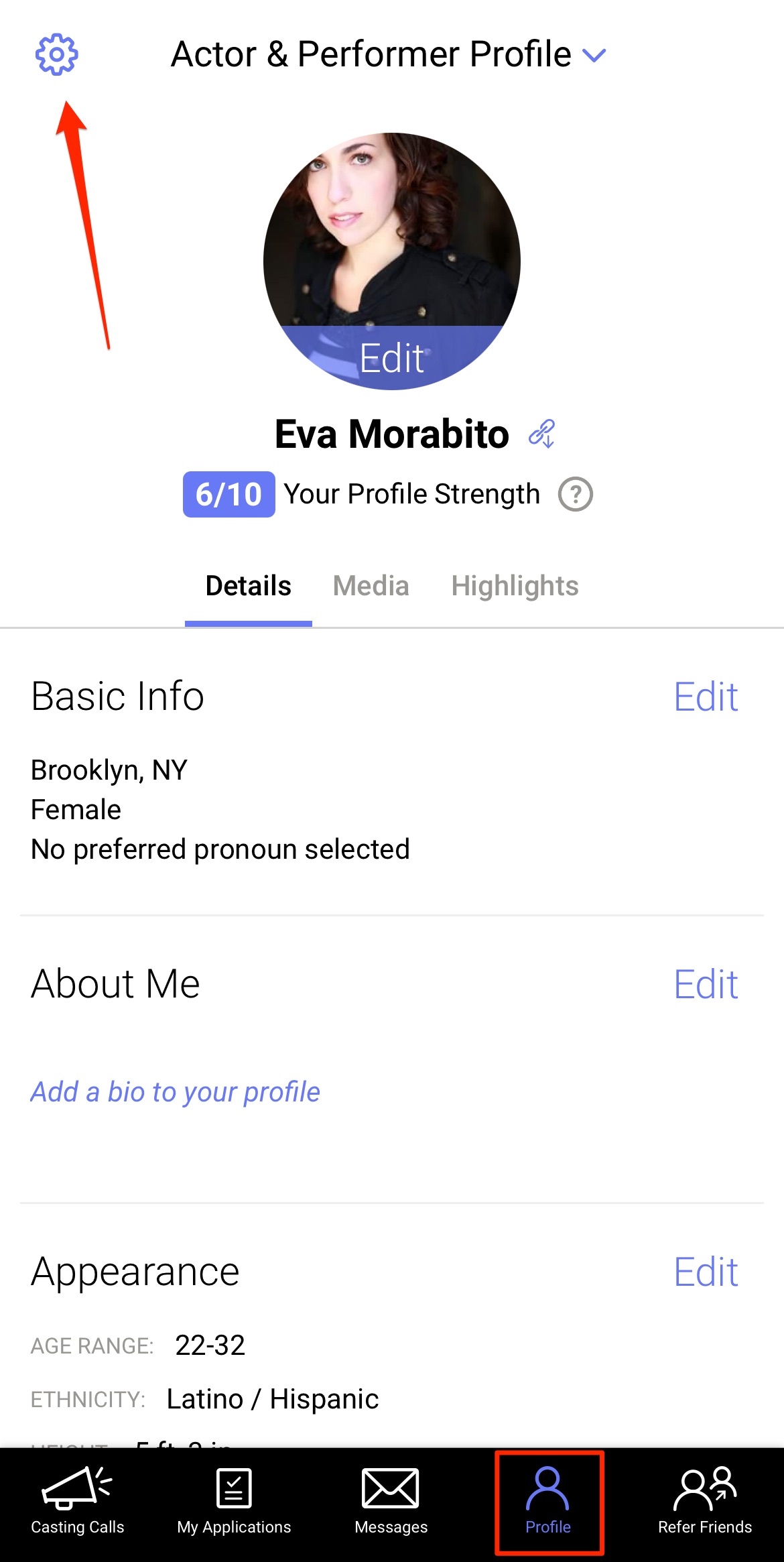 Once there, navigate to 'Notifications'. At the top of the screen you will see the button to grant permission for the app to send notifications to your device.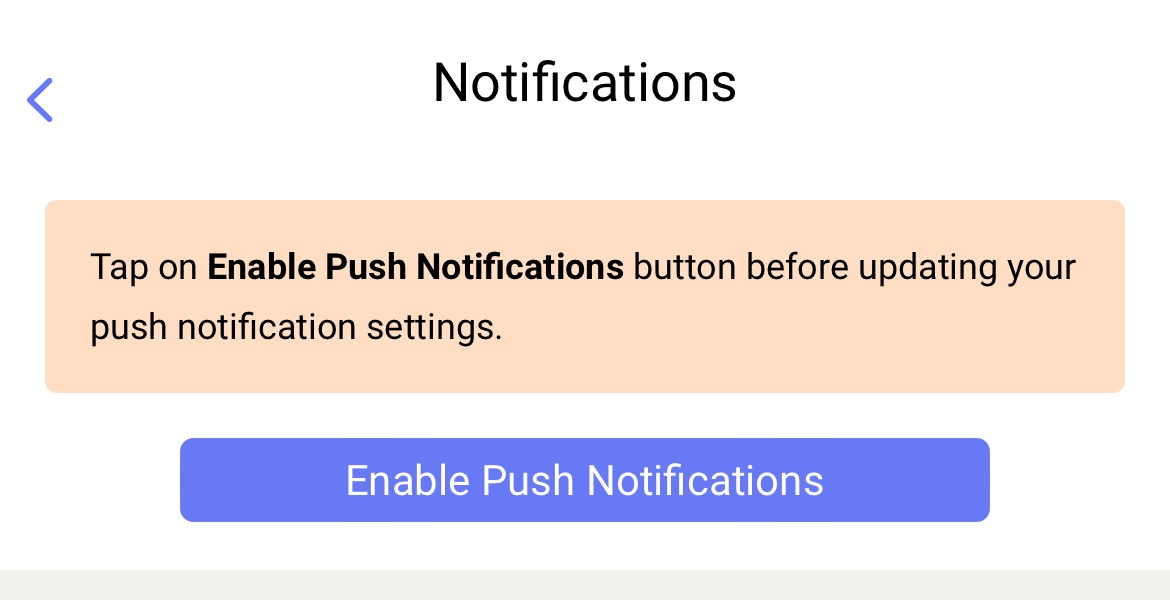 You can also grant the app permission to send you push notifications through your iPhone settings app as well, under the 'Notifications' section.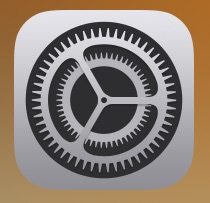 Global Notification Settings
Briefly touched on above, the global notification controls allow you to set the rules for notifications across your entire account. You can find these controls by navigating to the 'profile' tab, tapping on the gear (settings) icon in the upper left corner.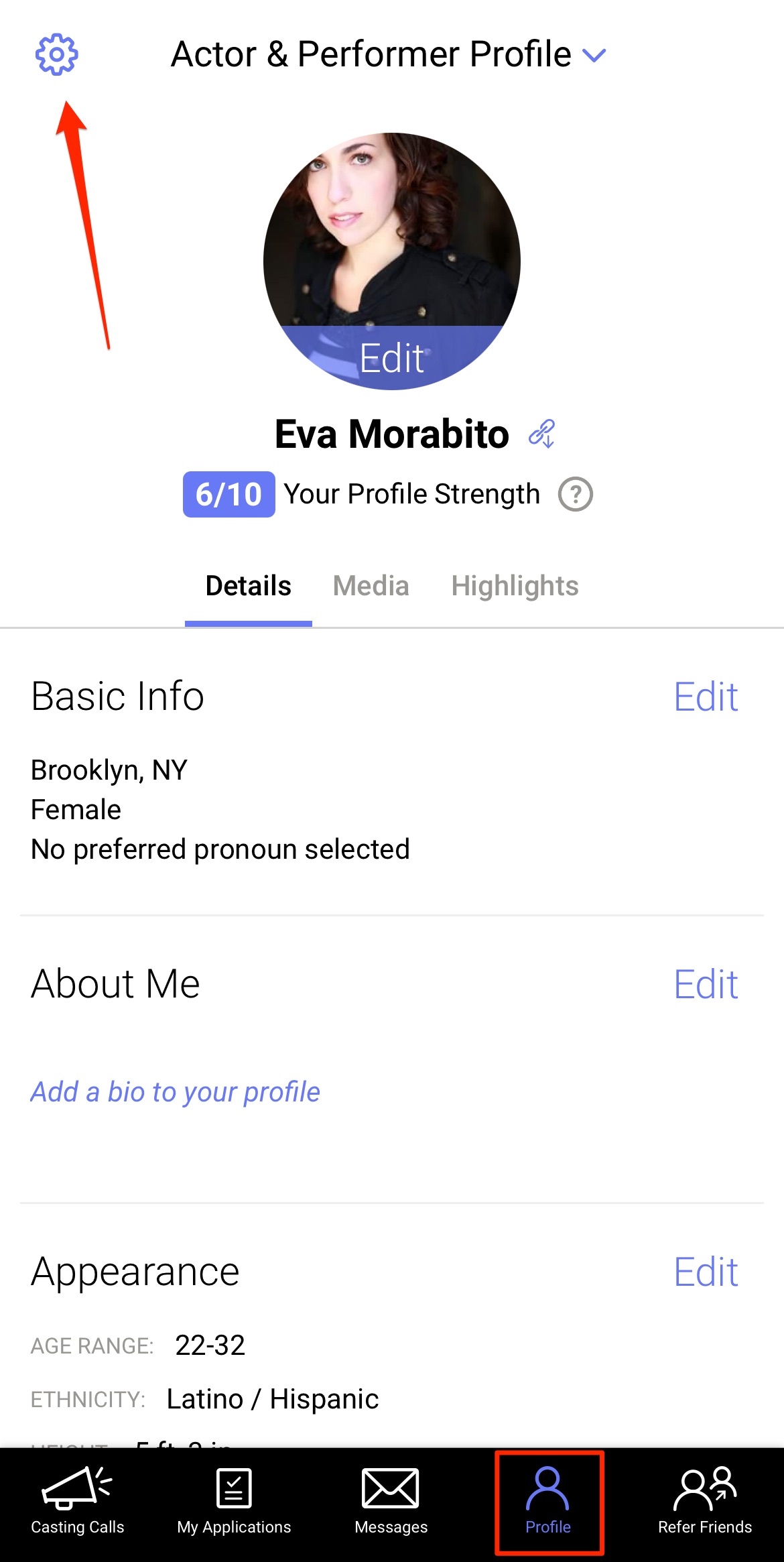 Once there, tap on 'Notifications'.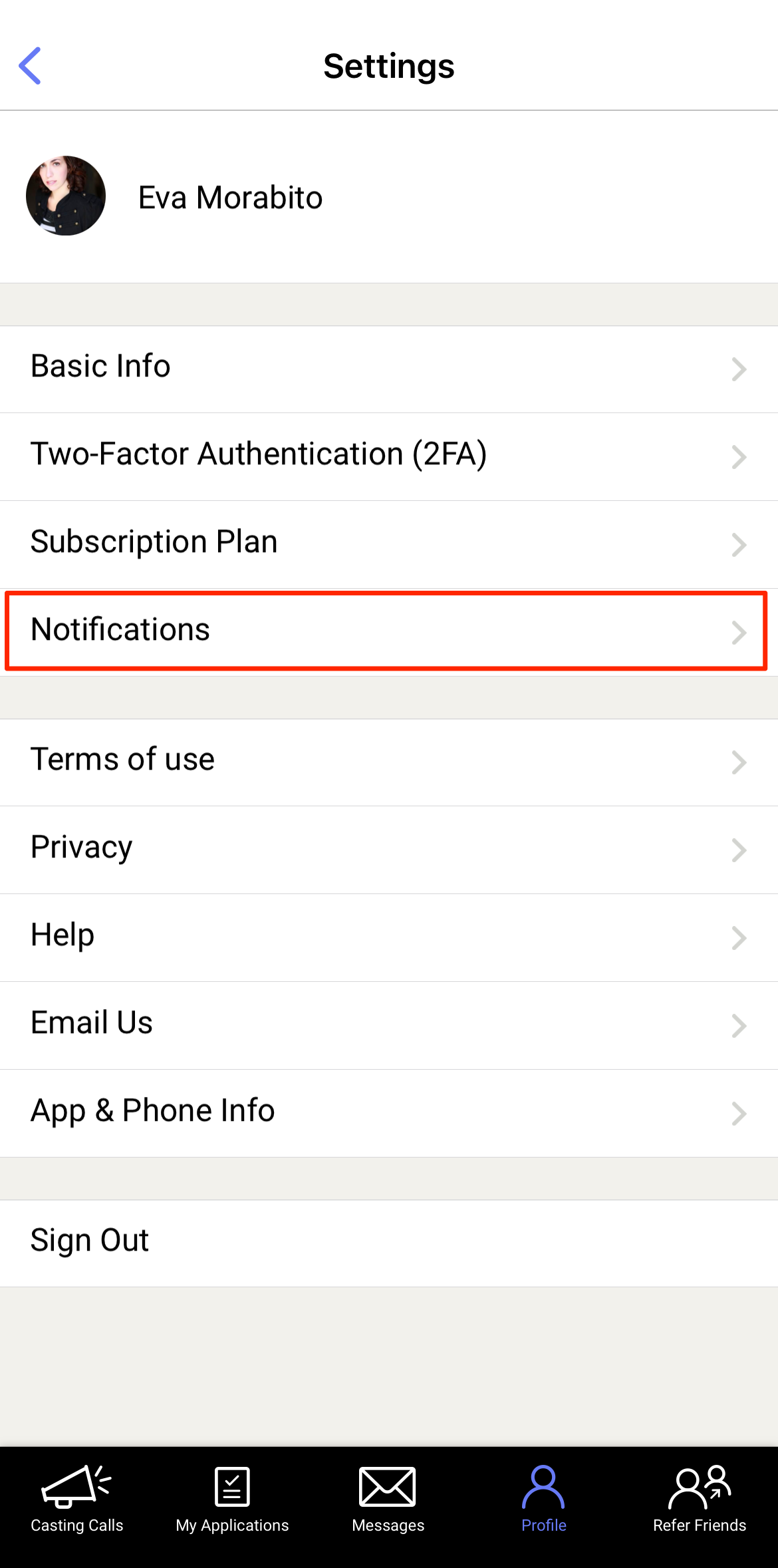 From here you can turn on and off push notifications for your invitations, your messages, and your saved searches, as well as turning on and off your notifications for each specific saved search.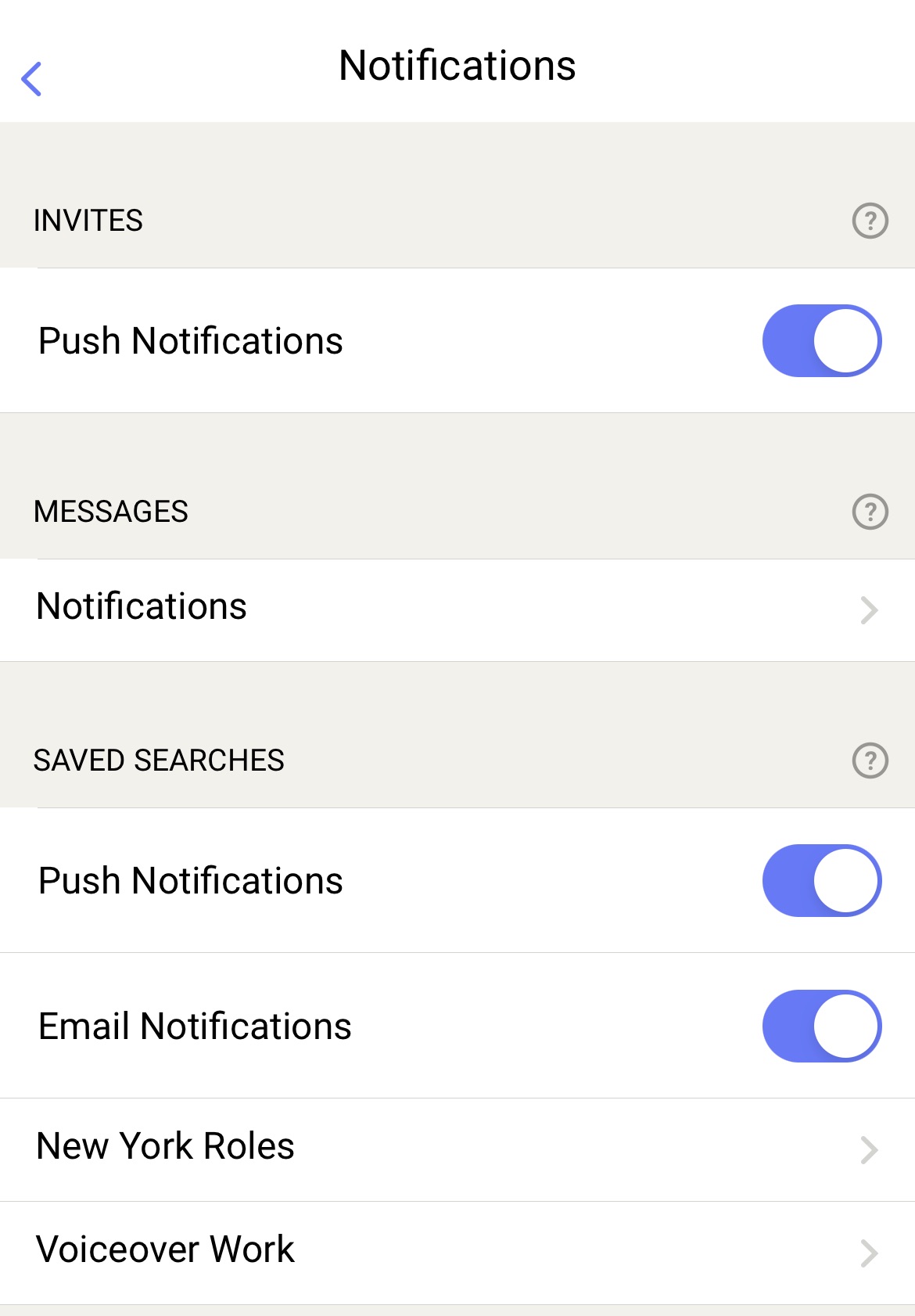 It's important to note that these controls will override any notification settings on your individual saved searches. What that means is:
If your global notifications are turned off, but you have notifications turned on for any saved search, you will receive no notifications at all.
If you have all global notifications turned on, but all notifications turned off for a specific saved search, you will not receive notifications for that saved search.
These global notifications will also affect your website settings as well, so be aware that changes you make here will also affect your experience while using your browser on your home computer.
Saved Search Notifications
You can modify the notifications for your saved searches by navigating to the 'Casting Calls' tab and tapping on the saved search dropdown.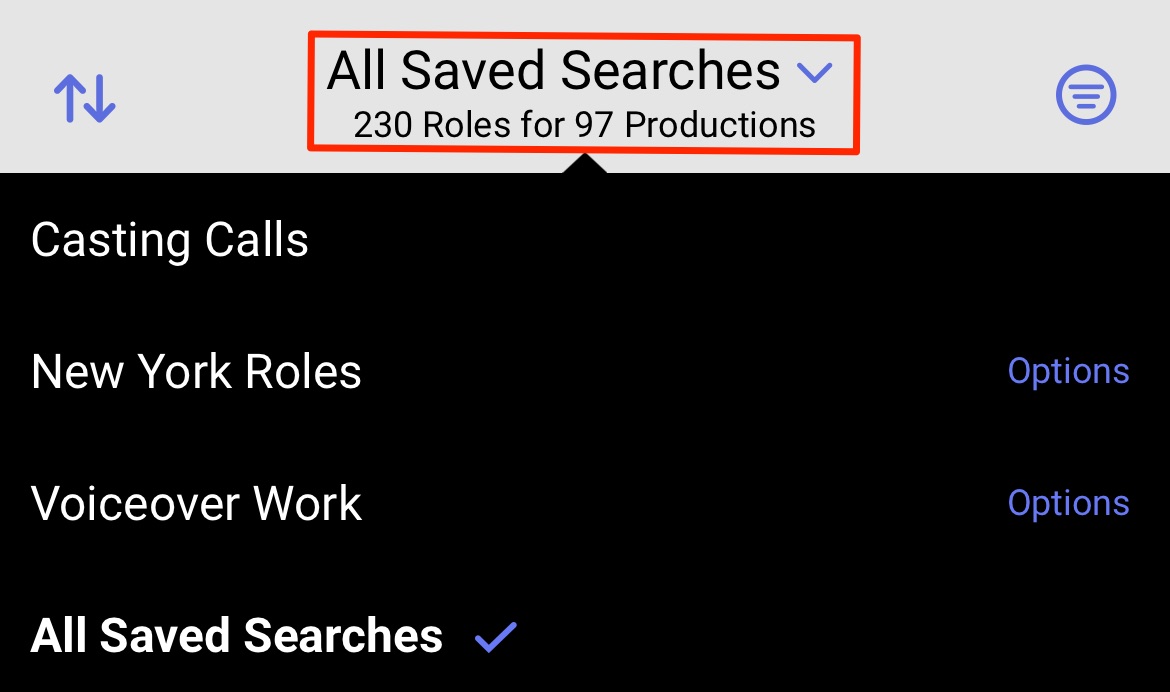 Once there, tap on the 'Options' button next to the search you want to change your notifications for.
You'll see there are several options for notifications. You can receive either email or push notifications, and you can receive them either immediately, once a day, or once a week.
Select the notification settings that work for you, and then tap on the 'Save' button in the upper right corner of the screen.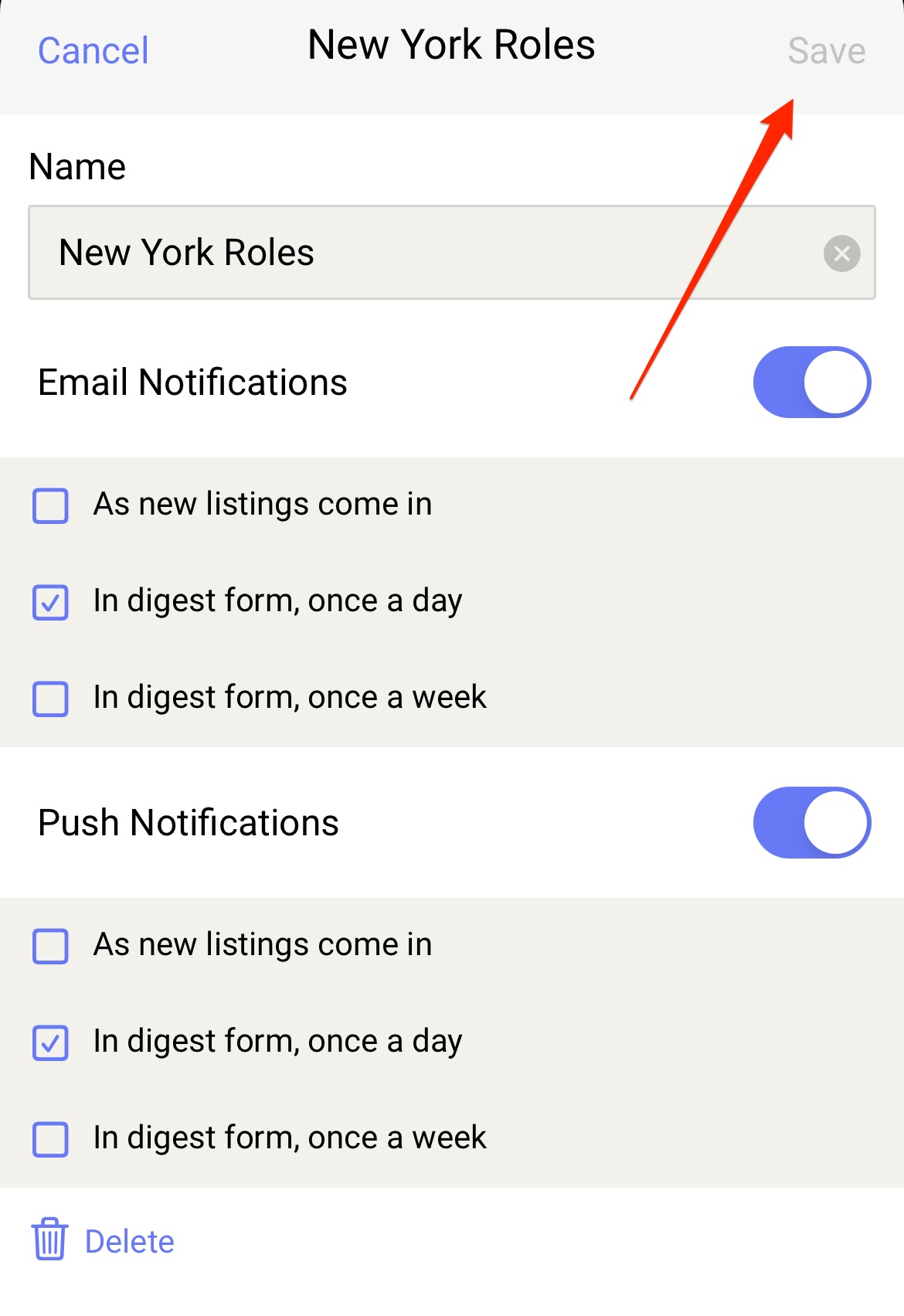 In addition, you may modify the notifications for each of your saved search from the Global Notification controls described above.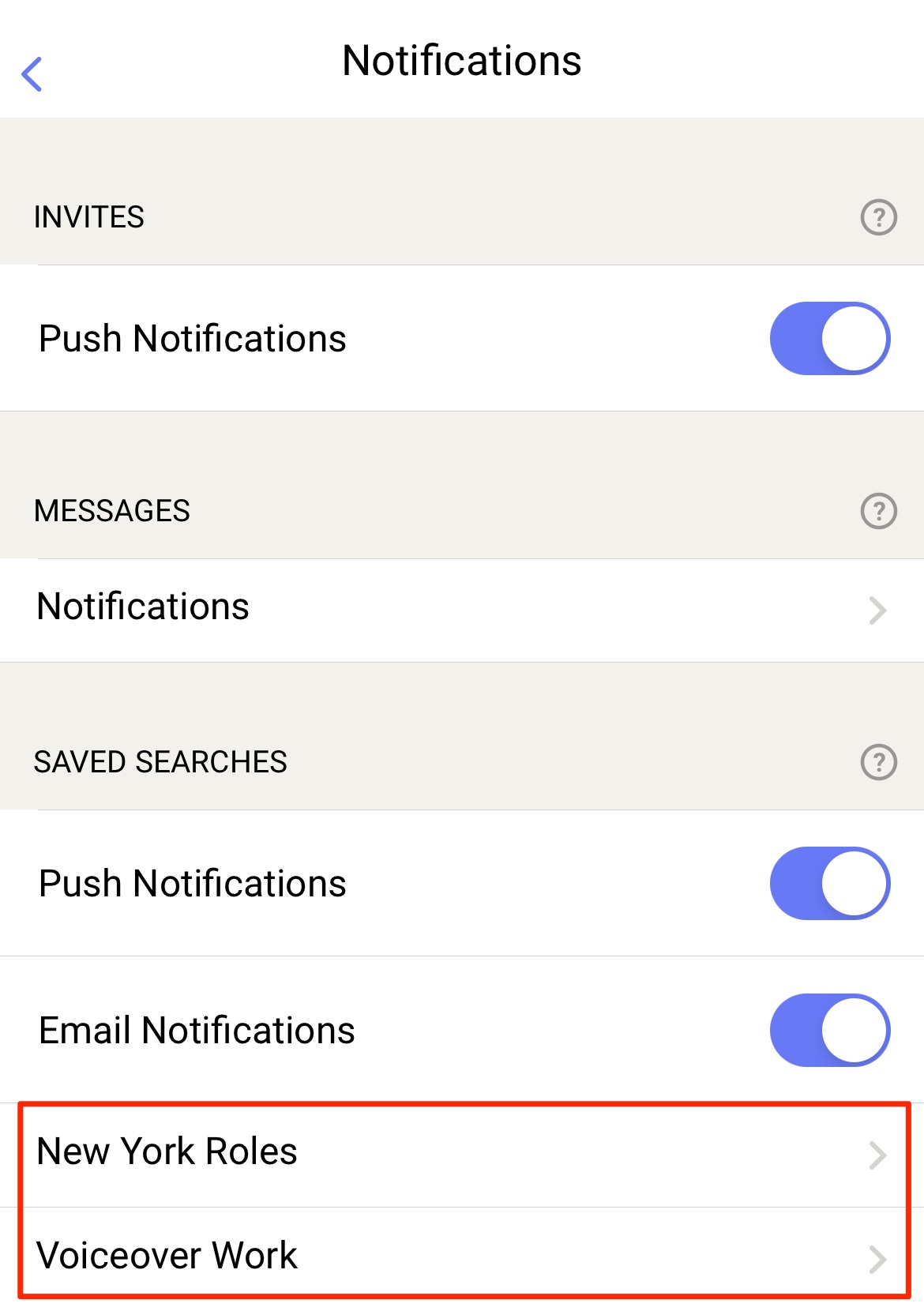 Simply tap on the saved search and you will be brought to the controls to modify these notification settings.